Real Estate Software - ProGold i2 web site: www.progoldi2.com
Real Estate Search Engine - ViewMyListing.com web site: www.viewmylisting.com
Search Local Classifieds – www.viewmylisting.com/buy-sale-trade
Agent Tools web site: real estate agent software
MLS Data Feed Implementation and Technical Specifications
Article:                       4048
Description:             Orange County, NY Association MLS IDX Data Feed
Last Modified:         September 6, 2013
To setup your FTP data feed from your MLS you must first schedule a full re-occurring download through org.mlxchange.com.  For assistance contact Orange County Association of REALTORS©.  Once the data feed is setup you will have to wait until after MLXChange has processes your initial data feed.  You should receive an email with an import URL and Server Path information that you will need to enter into Pro Gold.
Example Email from Datalink@interealty.com
User Name: XXXXXXXXXXXXX
User ID: XXXXX
Your scheduled DataLink process has completed.
Type: All records
DataLink file location:
ftp://datalink.interealty.com/DataLinkOutput/XXX/XXX_XXXXXX/
Total number of data records: 1142
Total number of image files: 2732
Before setting us your MLS data feed you will need to update your Pro Gold XP application to the most recent published version.
STEP 1  Update ProGold i2.  (Requires Resource Center Subscription).
Download/Install ProGold i2 updates
Go to Setup Tab

Select Download Live Update Icon and click Continue

Wait for the download to complete and extract and click OK when prompted

Multi-User customer should have all other users exit out of Pro Gold before continuing at this time.

Select Install Update Icon from the Setup main menu. Pro Gold will restart automatically when the update is complete.

Once the update is installed to the database other workstations will be automatically prompted to install a new version, click on yes to install the newer version of Pro Gold to that workstation.

To ensure your update was successfully installed the program version and the data version should be the same number.
Download and Install the latest MLS Import Driver (Unique MLS mapping schema files).  Perform this for all workstations.
Go to Setup Tab

Select Import/Export Utility Icon

Select Update Import Driver button

Wait for the download to complete and extract and click OK when prompted.
STEP 2  Download and setup the IDX Utility application. This only needs to be    done once.
1. From the Setup tab select Download Live Update.
2. Select Custom
3. Enter OCAR in the space provided and select Continue.   
4. You will be prompted to enter your board FTP/IDX Credentials:
a. URL enter  datalink.interealty.com
b. Server Path - /DataLinkOutput/XXX/XXX_XXXXXX/
c. User Name – anonymous
d. Password – provided by your board 
e. Click on Download.
5. Exit download when finished
STEP 3  Setup your Non-Coop office with your MLS public ID's. This only needs to be done once.
Any existing office in Pro Gold that is not setup with a Board Name and Entity ID will be added, during the import, possible causing duplicates offices.  All Non-Coop Offices must be mapped with your public MLS ID.
Note: Only listings for NON-Coop offices will import from your MLS data feed. 
1. From the Property Menu select Office Setup.  Using the Quick Find, search for the office you wish   to assign the MLS public ID to.  Repeat for all Non Coop Offices.  (Figure A)
a. For Board Name Select: Orange County Association
b. For Entity ID:        Your Office Public ID Provided by your Board
c. Click on Save button
(Figure A)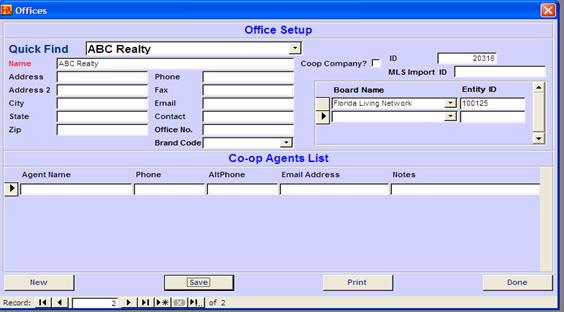 STEP 4  Setup your Agents with your MLS public ID's. This only needs                                         to be done once.
Your agents will not be assigned to their listings from MLS until their public MLS ID is mapped.
1. From the Property Menu select Agent Information.  Using the Find button to search for an agent you wish to assign their public MLS ID to.  (Figure B)
a. For Board Name Select: Orange County Association
b. For Entity ID:        Agent's Public ID Provided by your Board
c. Click on Save Agent button
(Figure B)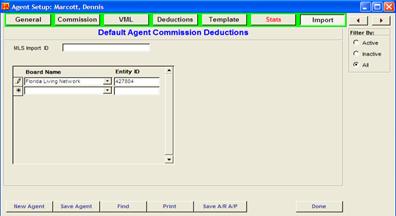 STEP 5  Importing Your MLS data. This should be done daily.
1. From the Setup menu select Import/Export Utility menu.
2. From the section "Select from Below" and click on your data feed/board name and click open.
3. Click on the retrieve button.  This will download your listings from the FTP site to your computer and extract the files. If photos are available and you're using Pro Gold 3.07 or greater you can select to include photos. Based on the number of photos included in the data feed from your Board and your Internet connection speed, photos can take a few hours to download.  You may find it more convenient to download photos weekly or during off peak times daily. (photos are not available on your initial download)
4. Click OK when the download has finished downloading the file
5. Select the options to include import coop agents and offices and photos.  Click on the Import button tart importing the listing data into Pro Gold XP.
Board Contact: Orange Count Association of REALTORS©
MLS Contact:    MLXChange
                        Jeff Marzo
                        845-294-7905
FTP Site is Provided by:  MLXChange
Special Notes:
See field mappings for property type and status mappings.

Coop Office and Agent Roster are included.

Pictures are provided for Pro Gold version 3.07 or greater.

Features are not supported.

List date is not provided by Board.  Import date will be used as listing date.  User should review listings and make any necessary changes.

MLS imports should be performed during off peak hours when including photos.

Please allow 7 hours when downloading photos.  You may only want to included photos once a week.

By default entire market photos are included.  Recommend that client contacts Innovia and request photo to only include your photos. 

Recommended that you have a minimum 2gigs of RAM.

Client must setup a re-occurring data fee through

org.mlxchange.com otherwise.
Field Mappings

PRO-GOLD

Orange County

Property TAB

PID

PRO GOLD ID

Property Information

Address One

Address

Address Two

Not provided by MLS.

City

Post Office

State

Not provided by MLS.

Zip Code

Zipcode

County

County Name

Township

Not provided by MLS.

List Date

Not provided by MLS. Used todays's date instead.

Exp. Date

Not provided by MLS.

Sale Date

Not provided by MLS.

Proj. Date

Not provided by MLS.

Close Date

Not provided by MLS.

OM Date

Not provided by MLS.

List Price

List Price

Sale Price

Not provided by MLS.

Listing Office

Not provided by MLS.

Selling Office

Not provided by MLS.

Coop Agent

Not provided by MLS.

Property Status

Active = 'Listed'

Title Company

Not provided by MLS.

Property Profile

MLS

ML Number

Neighborhood

Area

Type

'Residential' for res file & condo. 'Vacant Land' for land file. Commercial for commercial file. Multi Family for multi family file. Rental for rental file.

Bedrooms

Total # of Bedrooms

Baths

Bath Lav Total

Basement

Not provided by MLS.

Total rooms

Tot Rooms Finished.

Sq. Ft

SqFt Finished approx Amount

Lot Size

Acres

Garage

# Cars Garage Parking

Listing Notes

(field on the bottom)

Remarks1 + Remarks2

Showing Notes

(field on the bottom)

Not provided by MLS.

Vehicle

Not Available. Default to: "MLS"

Marketing Tab

Ad 1

Not provided by MLS.

Ad 2

Not provided by MLS.

Ad 3

Not provided by MLS.

Buyer/Seller

Buyer Information

Salutation

Not provided by MLS.

First Name

Not provided by MLS.

Last Name

Not provided by MLS.

Name

Not provided by MLS.

Co Buyer

Not provided by MLS.

Address One

Not provided by MLS.

Address Two

Not provided by MLS.

City

Not provided by MLS.

State

Not provided by MLS.

Zip

Not provided by MLS.

Buyer One SSN

Not provided by MLS.

Buyer Two SSN

Not provided by MLS.

Phone

Not provided by MLS.

Alt Phone

Not provided by MLS.

Email

Not provided by MLS.

Attorney

Not provided by MLS.

Notes

Not provided by MLS.

Seller Information

Salutation

Not provided by MLS.

First Name

Not provided by MLS.

Last Name

Not provided by MLS.

Name

Not provided by MLS.

Co Seller

Not provided by MLS.

Address One

Not provided by MLS.

Address Two

Not provided by MLS.

City

Not provided by MLS.

State

Not provided by MLS.

Zip

Not provided by MLS.

Seller One SSN

Not provided by MLS.

Seller Two SSN

Not provided by MLS.

Phone

Not provided by MLS.

Alt Phone

Not provided by MLS.

Email

Not provided by MLS.

Attorney

Not provided by MLS.

Notes

Not provided by MLS.

Office Setup

Office

Name

Broker Office Name

Address

Not provided by MLS.

Address 2

Not provided by MLS.

City

Not provided by MLS.

State

Not provided by MLS.

Zip

Not provided by MLS.

Phone

Broker Office Phone

Fax

Not provided by MLS.

Email

Not provided by MLS.

Contact

Not provided by MLS.

Office. No

Not provided by MLS.

Coop Company

Not provided by MLS.

ID

Not provided by MLS.

MLS Import ID

Not provided by MLS.

Board Name

Default to: OCAR

Board Entity ID

Broker Office Code

Agent

Agent Name

List Agent Name

Phone

Not provided by MLS.

AltPhone

Not provided by MLS.

Email Address

Not provided by MLS.

Notes

Not provided by MLS.

Agent Info Import TAB

Not provided by MLS.

Board Name

Default to: OCAR

Board Entity ID

Agent Public ID provided by board